Join The Creative Genius Conference & The Book Launch of Tammy and The Shipwreck by 12-year-old Liverpool Author for World Book Day 2022
Likambi Global Publishing would like to invite you and your wonderful and gifted children to The Creative Genius Conference in celebration of World Book Day 2022.

At Likambi Global Publishing, we are passionate about inspiring and empowering young people to develop a love for reading and to unlock their creativity and fulfil their maximum potential. We accomplish this by running diverse writing/ creative projects, events; and by offering bespoke mentoring and coaching opportunities designed to give young people the platform, resources, and confidence they need to unleash their creative genius and thrive.

The conference will take place on Zoom on Saturday 5th March 2022, and will be officially opened by the Lord Mayor of Liverpool, Cllr Mary Rasmussen. During the conference, one of our keynote speakers and 12-year-old best-selling author, Caleb Likambi will be officially launching his debut children's book, Tammy and the Shipwreck.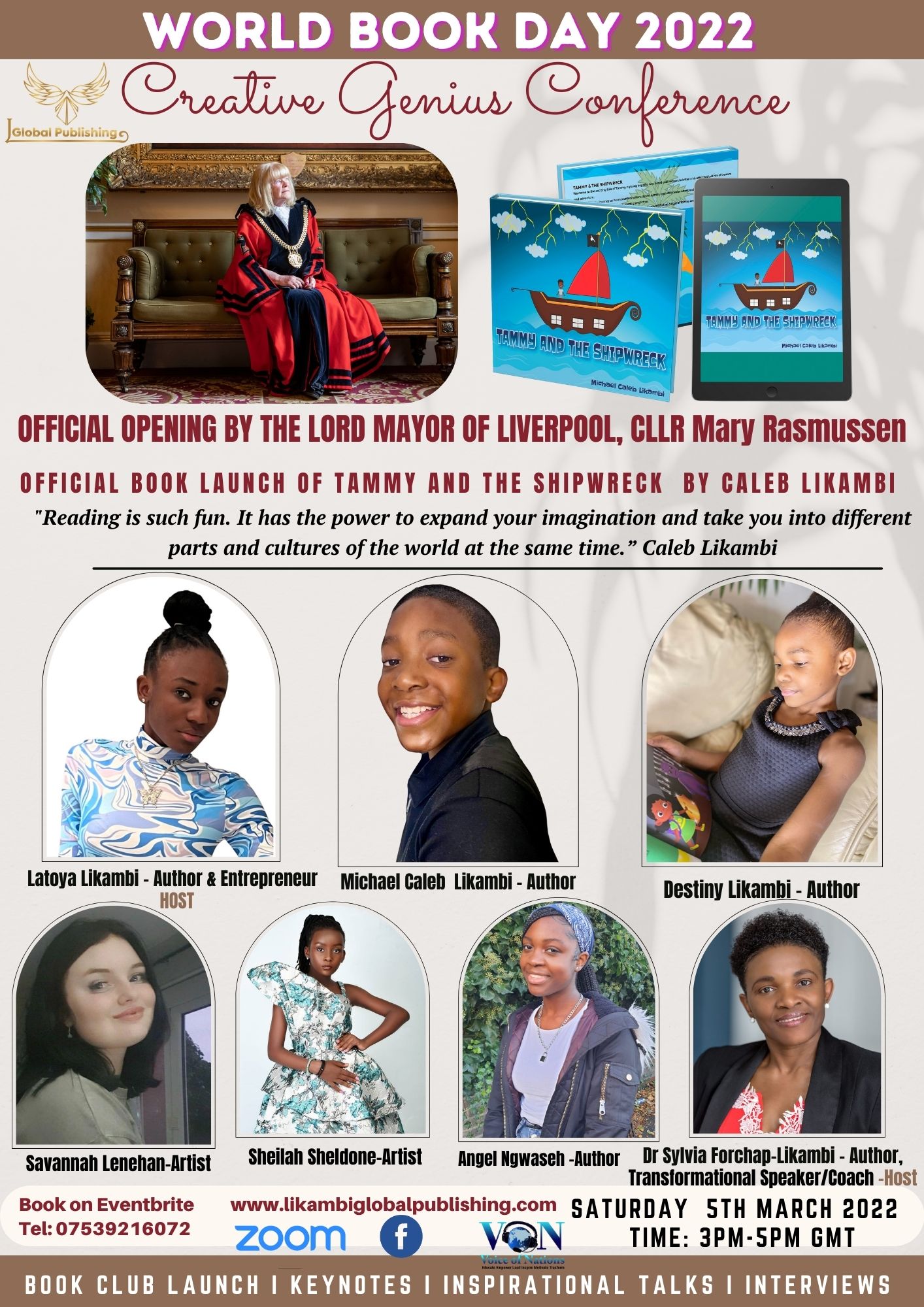 For this year's conference, we have lined up some of the most inspirational and talented young authors, artists, and visionaries of our time, who are disrupting and challenging the status quo while paving the way for their peers. They all represent positive role models for children globally and continue to inspire many more children to follow in their footsteps.

Amongst our featured guest speakers are: 13-year-old Angel Ngwaseh, author of The Babysitter, 12-year-old Kenyan artist, Sheilah Sheldone, 14-year-old Liverpool Artist, Savannah Lenehan, 12-year-old Caleb Likambi, author of Tammy and the Shipwreck, and 6-year-old Destiny Likambi, the UK's Youngest author of two books (Destiny and the Troll and The Girl on the Journey). To grace the event is our distinguished guest of honour, The Lord Mayor of Liverpool, Cllr. Mary Rasmussen; making this an unmissable event for young creatives and aspiring writers and artists.

During the conference, In addition to the book launch of Tammy and the Shipwreck by 12-year-old Caleb Likambi, we will also be launching The Intelligent Minds Book Club and unveiling The Family Adventure Book, which features short stories on the topic of family from diverse talented young writers in collaboration with bestselling author Latoya Likambi.

Your hosts for the day will be 15-year-old 3X International Bestselling Author and Co-founder/ mentor at Likambi Global Publishing, Latoya Likambi and Leading Empowerment and Transformation Authority and Coach and 5X International Best-selling Author,, Dr Sylvia Forchap-Likambi.

See full details of the conference below:

Date: Saturday 5th March 2022
Time: 3:00 pm – 5:00pm
Where: ZOOM
Link: https://us02web.zoom.us/j/89946066494pwd=WHFFY3puMi9TR3pSNzFpcndMVHh2Zz09
Meeting ID: 899 4606 6494
Passcode: GENIUS