THE BLACK HISTORY MONTH BOOK LAUNCH & TOUR WILL BE OFFICIALLY OPPENED BY LIVERPOOL'S LORD MAYOR & FIRST CITIZEN, Cllr Roy Gladden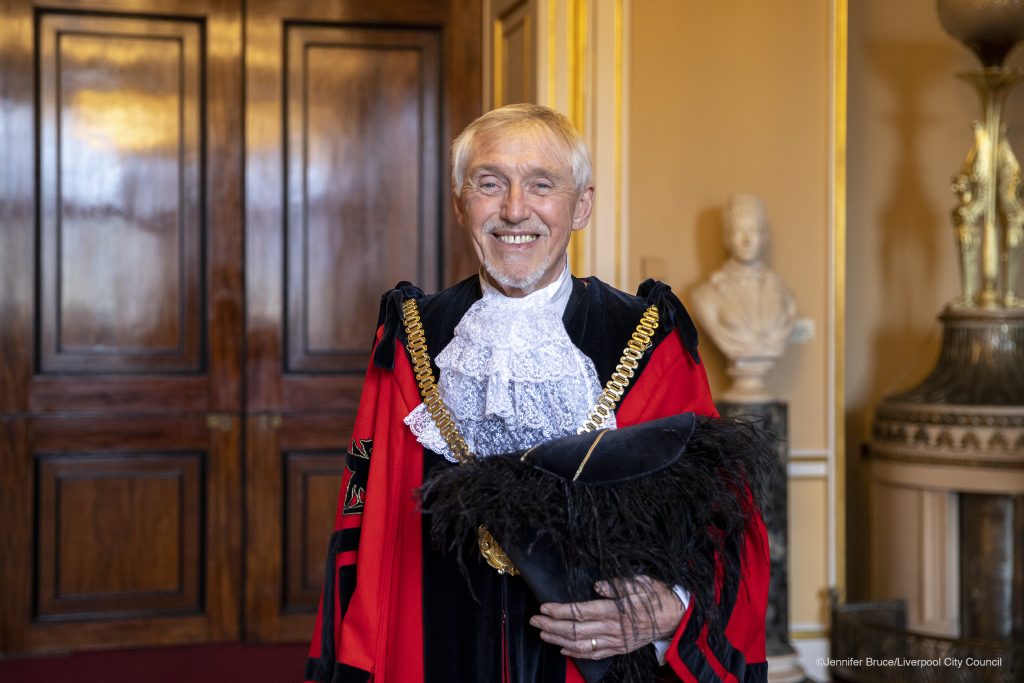 Likambi Global Publishing in partnership with Toxteth Library and other Libraries in the Liverpool City Region are hosting A Black History Month Book Tour & Book Launch of the latest books of 'The World's Youngest Author to Publish Multiple Books Within Months, six-year-old Destiny Likambi, and her siblings/ Liverpool's youngest authors, 12-year-old Caleb Likambi and 15-year-old Latoya Likambi in celebration of Black History Month 2022.
The First of these events will take place on Monday 3rd October at Toxteth Library, Liverpool and will be officially opened and launched by LIVERPOOL'S LORD MAYOR & FIRST CITIZEN, Cllr Roy Gladden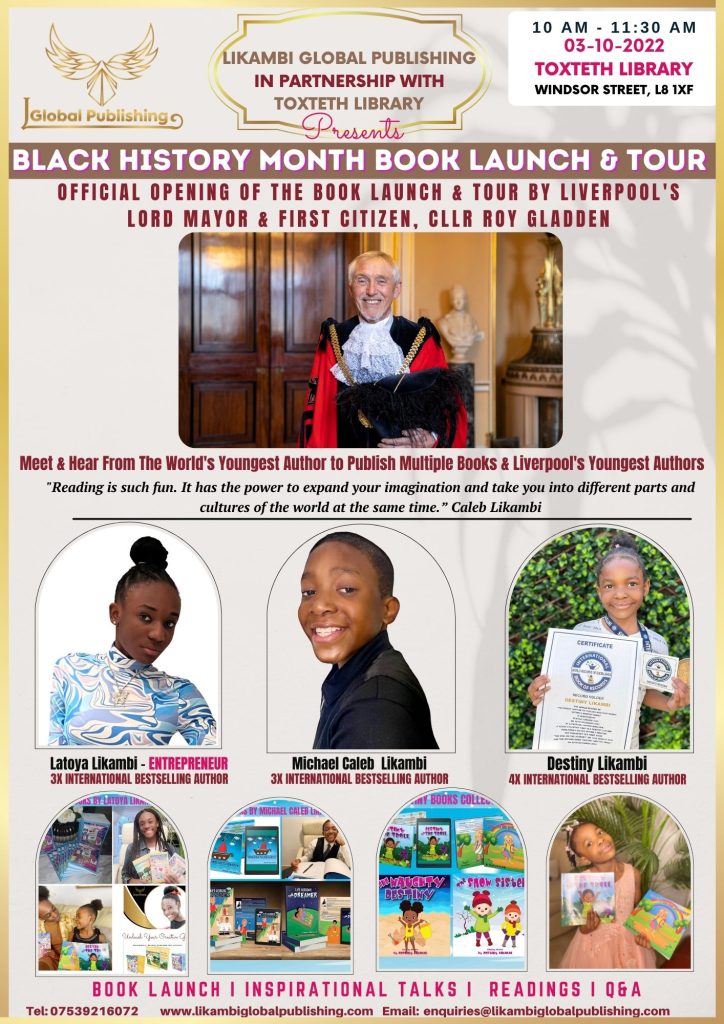 At Likambi Global Publishing, we are passionate about inspiring and empowering young people to develop a love for reading and to unlock their creativity and fulfil their maximum potential. We accomplish this by running diverse writing/ creative projects, events; and by organising book tours and Book Launch Projects for our young authors that are designed to inspire and give young people the platform, resources, and confidence they need to unleash their creative genius and thrive in life.
You can Join us in one of the following libraries on the dates below to meet and hear from the authors.
3RD OCTOBER – TOXTETH LIBRARY
5TH OCTOBER – SEFTON PARK LIBRARY
18TH OCTOBER – WAVERTREE LIBRARY
19TH OCTOBER – KENSINGTON LIBRARY
The Historic Completion and Official Closing of the Tour will take place on Wednesday 19th October at Kensington Library, Liverpool and will be officially closed by The High Sheriff of Merseyside, Ms L C Martin-Wright JP DL
For this year's Black History Month, we are organising a Black History Month Book Tour/ Book Launch during which we will be launching and reading from:
The latest books of six-year-old best-selling author, Destiny Likambi, The Naughty Destiny and The Snow Sisters, which are the latest instalments in the Destiny Books series by the author and follow up her first two books which were released in 2021. Destiny's debut book, The Girl on the Journey was released when she was just 5 years old, and Destiny and the Troll, a few months later, earning Destiny the World Record Title from the International Book of Records.
The second and third book of multi-talented and gifted 12-year-old author, Caleb Likambi, Rags to Riches and The Dreamer; the first and second instalments in the 'Life Lessons' series by Caleb Likambi, published shortly after the success of his debut best-selling book, Tammy and the Shipwreck which was released earlier this year.
The third book of 15-year-old bestselling author of three books, Latoya Likambi, The Anderson Adventure, which is also the second in The Kasey's Diary Book Series, by the author.
As the City's youngest authors, their goal is to create diversity in Children's literature/ the books available to young people and inspire as many children as possible in Liverpool and nationally to unlock their creative genius and full potential. They are determined to inspire their peers to develop a love for reading and writing and to write their own books that will, in turn, inspire more children worldwide to read, write and tell their stories! They represent positive role models for children/ Liverpool and continue to inspire many more children to follow in their footsteps.
In May 2022, the authors/siblings received a special invitation from The Lord Mayor and then First Citizen of Liverpool, Cllr Mary Rasmussen, during which they presented autographed copies of their books to her and received special recognition as the city's youngest authors, as well as a rare gift of a golden Liver Bird.