Black History Month Book Launch & Tour by 'the World's Youngest Author to Publish Multiple Books & Liverpool's Youngest Authors, (Destiny, Caleb and Latoya Likambi ) continues this Friday as the authors make their next stop at St Ambrose Catholic Academy Liverpool!
They will be spending the whole day at the school speaking and sharing their inspiring journeys/ reading with pupils in the various classes, library, and finishing off in a school assembly in afternoon – where their mum and mentor/ coach (Dr Sylvia Forchap -Likambi ) will also deliver a keynote speech to inspire the students to believe in themselves and follow their dreams!
As the World's/City's youngest author/s, their goal is to create diversity in Children's literature/ the books available to young people and inspire as many children as possible in Liverpool and nationally to unlock their creative genius and full potential. They are determined to inspire their peers to develop a love for reading and writing and to write their own books that will, in turn, inspire more children worldwide to read, write and tell their stories! They represent positive role models for children/ Liverpool and continue to inspire many more children to follow in their footsteps.
The Final Book Tour will take place at the Kensington Library on Wednesday 19th October from 1:30pm – 2:30pm. and the Tour will be officially closed by the High Sheriff of Merseyside, Ms L C Martin-Wright JP DL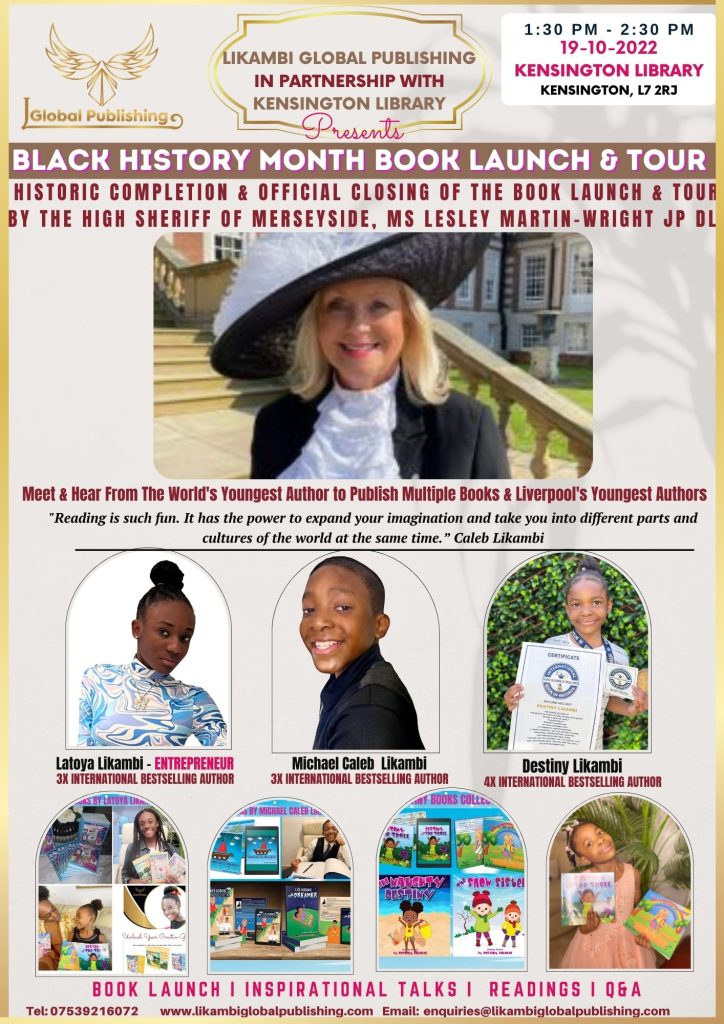 FINAL TOUR DATES & LIBRARIES INCLUDE:
18TH OCTOBER – WAVERTREE LIBRARY FROM 1:30PM – 2:30PM
19TH OCTOBER – KENSINGTON LIBRARY FROM 1:30PM – 2:30PM