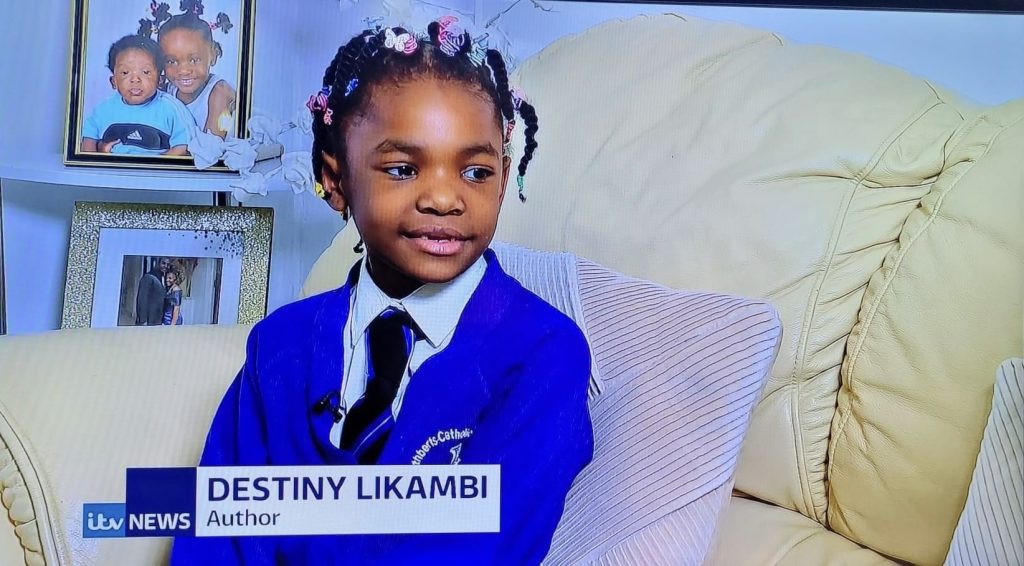 Bestselling Author, Destiny Likambi on ITV News at age, six.
"I love reading and my books are for children who are learning to read and who love
reading just like me" Destiny Likambi
Seven-Year-old child prodigy and the world's youngest author to publish multiple books within five months (girl), Destiny Likambi, from Liverpool, hits another landmark in her publishing journey as she releases her fifth and sixth children's books, Chicky and The Forest and The Summer Holiday respectively, in just three days!
Coming from a family of gifted and talented young writers, Destiny Likambi debuted as an author at the tender age of five with her best-selling book, The Girl on the Journey, followed by three other best-sellers, Destiny and the Troll, The Naughty Destiny and The Snow Sisters, respectively.
Following the huge success of her first four books which immediately hit the Amazon Number 1 bestseller list on diverse categories, Destiny Likambi makes history once again as she returns with two new books, Chicky and The Forest and The Summer Holiday on Saturday 19th August 2023! Chicky and The Forest was written in one day, when Destiny was just five, and inspired by her immense love for one of her favourite toys, called Chicky. In addition to being a published author of six books at age seven, Destiny has written four more books which will be published later this year.
Destiny said, "I love speaking in schools and at events and inspiring young children to write and publish their own books. If I can do it, then they too can do it." Destiny Likambi
Her passion for storytelling, art and writing dates back to her nursery days when she always looked forward to telling everyone about her day in the nursery and often brought home some drawings and paintings. Destiny loves reading, singing, listening to bedtime stories, and making up her own stories prior to bedtime and enjoys sharing these stories with her siblings and parents. She's a 'chatter box' and fondly known as 'the energetic speaker of the house'.
'I am excited to write my own books because I don't just want to read other people's books, I want to do more.' Destiny Likambi
You can pre-order both books today at a special release price of £16 for both books or £8.99 each.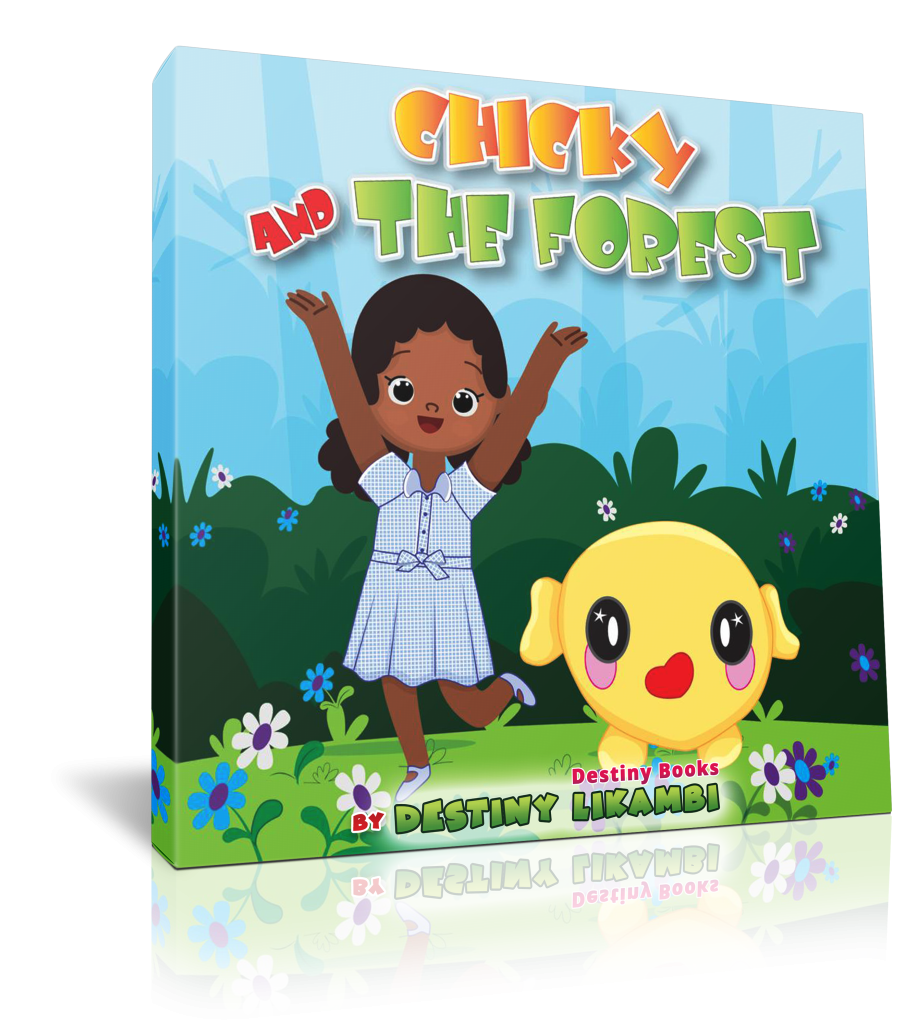 You can pre-order the kindle books on Amazon today at a special price of just £2.99 each for a limited time only before the 19th of August 2023!
ABOUT THE BOOKS: CHICKY AND THE FOREST
Chicky is a friendly, cheerful little boy who loves playing outside. He goes on new adventures every day.
One day, one of Chicky's adventures almost got cut short when his mother said he couldn't go out into the forest. Somehow,, Chicky eventually gets his way.
But his exciting quest quickly takes a turn when a mysterious cloud appears overhead and Chicky vanishes!
Should Chicky have listened to his mother and stayed safe at home…? Keep reading to find out what happens next!
GET SPECIAL KINDLE BOOK HERE FOR JUST £2.99: Chicky and the Forest eBook : Likambi, Destiny: Amazon.co.uk: Kindle Store
GET SPECIAL AUTHOGRAPGHED PAPERBACK HERE FOR JUST £8.99: Chicky and The Forest – LIKAMBI GLOBAL PUBLISHING
GET SPECIAL AUTHOGRAPGHED COPIES OF BOTH BOOKS HERE FOR JUST £16: Chicky and the Forest & The Summer Holiday Bundle – LIKAMBI GLOBAL PUBLISHING
ABOUT THE BOOKS: THE SUMMER HOLIDAY
As a loving family sets off to go on a beautiful holiday to escape reality, their journey is filled with a mixture of excitement, joy, and a few arguments, too!
Thought it was over? This family's jam-packed holiday had just begun! They took off into the high, fluffy candy floss-looking clouds and the plane rode them into paradise! The summer holiday consisted of a lot of fun and enjoyment, but also, typical family commotion and squabbles.
As you read along, dive into the world of summer holiday fantasy and come along with this family on their holiday adventure, full of surprises and fun!
GET SPECIAL KINDLE BOOK HERE FOR JUST £2.99: The Summer Holiday eBook : Likambi, Destiny: Amazon.co.uk: Kindle Store
GET SPECIAL AUTHOGRAPGHED PAPERBACK HERE FOR JUST £8.99: The Summer Holiday – LIKAMBI GLOBAL PUBLISHING