We are delighted to announce that our young Co-founder and mentor, and Liverpool's youngest bestselling author of 3 books, Latoya Likambi, will be joining other great and inspiring black leaders this year again ( though virtually this time) at The UK House of Parliament Virtual Anniversary Celebrations in commemoration of The Black History Month 2020!
This prestigious event is hosted by the visionary and inspiring Tony Fernandez and will take place on Saturday, the 31st of October 2020 at 6 pm BST. The moderator for the event is Mr. Derek Dziva.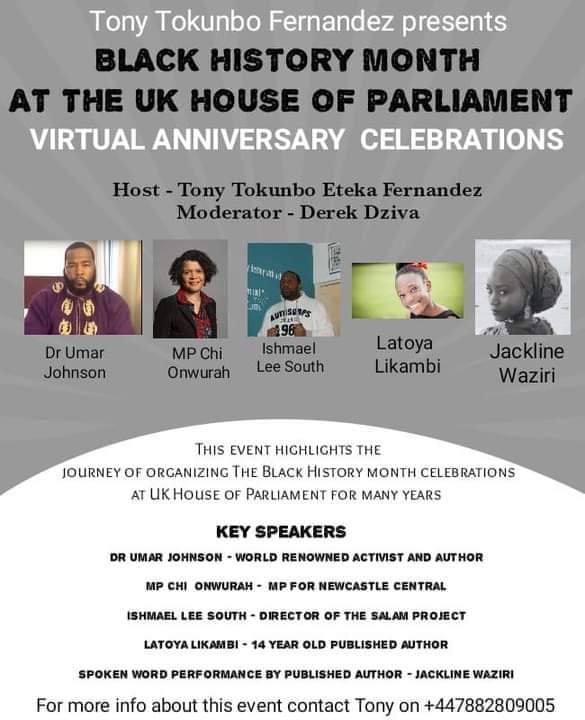 Key Speakers include –
African American world-renowned activist.
Dr Umar Johnson MP Chi Onwurah
The MP for Newcastle Central based in Newcastle, Mr Ishmael Lee South
Director of The Salam Project based in Manchester and
14-year-old Published Author of three books and Motivational speaker- Latoya Likambi based in Liverpool.
UK based Africa4u Youth Ambassador- Jackline Waziri will also be live to talk very briefly about her new book.
Mr Fernandez had this to say about this year's event, "This year has had its challenges with covid-19, but we hope to see you all in person next year at The UK House of Parliament for The Black History Month celebrations 2021. "If you would like to be a media partner for this event contact the organisers on +447882809005 www.tonyfernandez.co.uk
The entire team at Likambi Global Publishing expresses our heartfelt gratitude to Mr. Tony Tokunbo Eteka Fernandez for believing in Latoya and for offering her this unique opportunity once again! Thank you! We are profoundly grateful and humbled!
22