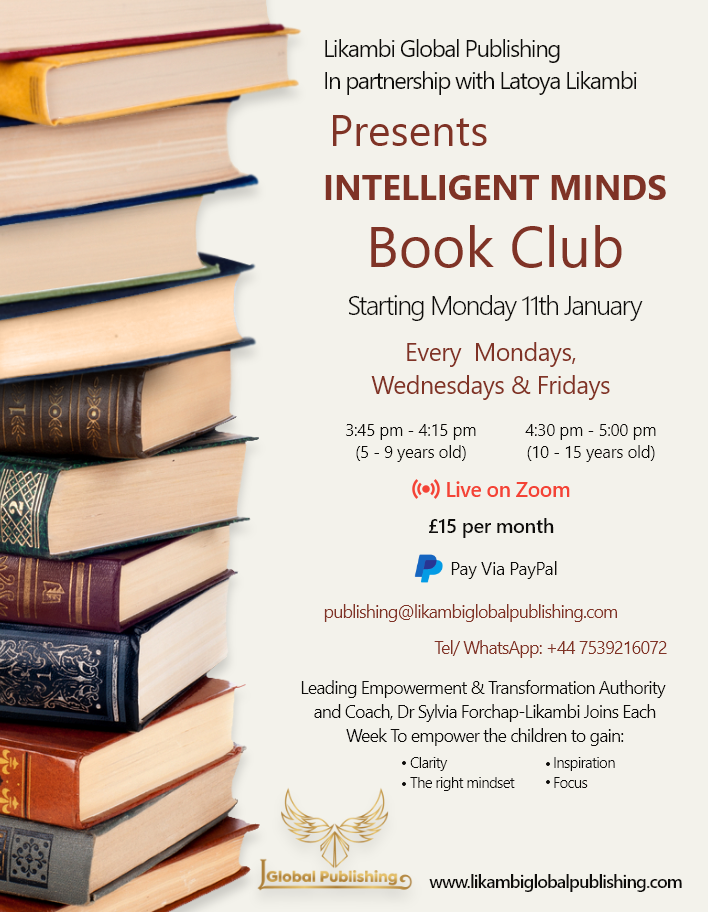 TODAY'S READERS ARE TOMORROW'S LEADERS 
Likambi Global Publishing in partnership with Liverpool's youngest Best-selling author of three books, Latoya Likambi, is pleased to bring to you and your wonderful children The Intelligent Minds Book Club!
The Intelligent Minds Book Club for children aged 5-15 years, starts on Monday 11th January Live on Zoom and takes place 3 times a week (Mondays, Wednesdays, and Fridays).
There will be 2 book clubs; for children aged 5 – 9 years (3:45 pm – 4:15 pm) and children aged 10 – 15 years (4:30pm – 5:00pm), respectively.
Each week we will invite Leading Empowerment and Transformation Authority and Coach, Dr. Sylvia Forchap-Likambi to inspire the children to commence their week with greater clarity, the right mindset, inspiration, and focus.
Let us know if you want your child to be a part of this or discuss your child's needs with us.
Your investment will be £15 per month – under £1 per session (to cover resources and materials for the book club). You can make a payment of £15 per child today via PayPal at publishing@likambiglobalpublishing.com or via Bank Transfer. Contact us for our bank details. More details will be sent to you once you register your child.
There will be opportunities, to enter into a prize draw and win prizes, including a free publishing opportunity with Latoya Likambi and free one-hour coaching with Dr. Sylvia Forchap-Likambi.
Remember… We cannot always control what happens to us, but we can definitely ALWAYS control how we respond to it and let it affect us/ our children, and our/ their wellbeing!